The front porch of your coastal cottage is the first thing that anyone sees when they come to your house so making it warm and inviting sets the right tone for visitors! It's also a great space to settle in for a comfortable afternoon, have conversation and enjoy that summer drink. Whether it is small or large, there are so many ways to enhance the space and bring it to life! We've scoured through many ideas to bring you the top 7 ways to enhance the front porch of your coastal home.
1. Porch Swing
The sweet, slow dance of life can be celebrated with a porch swing! Caressed by breezes that steal in off the ocean, here is the spot for conversation, or a place to spend a lazy afternoon with a good book. Consider the Low Country Bed Swing - more a bed than swing, yet with a gentle, rocking motion.
2. A Rocking Chair
For the ultimate in relaxation! A distressed finish treatment provides an antique, weathered appearance milled from a renewable resource, plantation grown southern pine. This furniture was created to offer not only eco-friendly all-weather seating, but classically styled, comfortably designed outdoor accents. With rugged good looks and solid construction, the chairs provide a balance of aesthetic charm and lifestyle integrity. Our favorite porch rocking chair is the Cliffside Outdoor Rocker!
3. Birdhouses
A birdhouse on the porch invites beautiful winged visitors to come and share space with us! The Cape May Birdhouse has Victorian construction, inspired by the top birding location, Cape May.
4. Vintage Bicycle With Flowers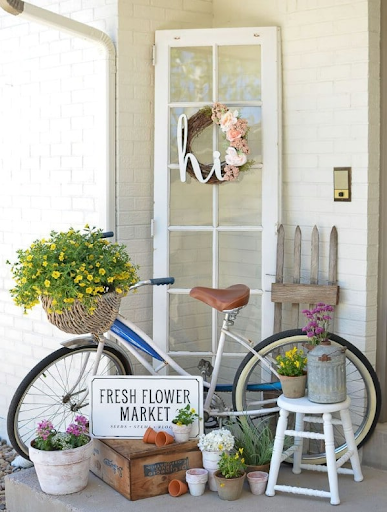 This vintage bicycle is a style from years ago that looks simply fabulous showcasing a wicker basket full of fresh-cut flowers. Natural, casual, and fun for a farmhouse or coastal porch.
5. Outdoor Rug
An outdoor rug is a must have in any porch or patio! It instantly warms the space and brings color to the area. These rugs are terrific for high-traffic areas and muddy messes. Check out the Diamond Light Blue and Ivory Outdoor Rug. This best-selling, eye-catching geometric area rug -- in washable, fade-resistant polypropylene -- is a shining gem.
6. Potted Plants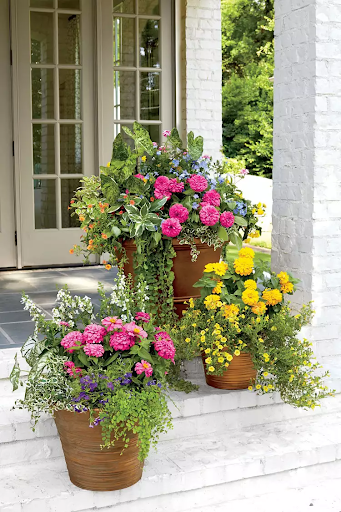 Your porch is the ideal spot for plants that don't need a lot of sun. Hydrangeas, Geraniums and Zinnias make beautiful porch blooms! All of these gorgeous plants will thrive in containers from late spring through summer.
7. Coastal Lanterns
Coastal lanterns. You've seen them flanking the front doors of many a New England coastal cottage, illuminating patios and decks and gracing the interiors of many an exceptional coastal home. Charming, authentic, hand-made by skilled craftsmen with the same traditional methods honed by years of experience. Pictured here is the Empire Three Light Hanging Lantern with Clear Seedy Glass.
Does this make you want to revamp your front porch? Browse our curated, unique collection at Cottage & Bungalow to refresh your home and create the coastal home of your dreams!